Hi!
Today I wanted to share a photograph I took yesterday. My husband surprised me and made me my favorite breakfast of all time - Eggs Benedict!!! I couldn't resist taking a picture and I'm entering it in the
Simple Things
contest.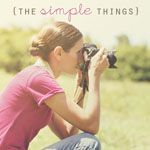 I just got my camera for Christmas, so I'm still figuring everything out!
But I think this looks pretty yummy!!!!
Thanks for stopping by! And go to the
Simple Things Blog
- she has an awesome contest going on to win a camera strap!