Hi! It's time to try a new technique with Lawnscaping!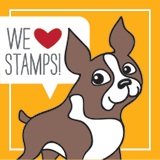 I tried Jennifer McGuire's Distress bleed technique! I stamped the feathers in Distress Ink colors and then spritzed it with water to let the ink bleed. Then I stamped in black ink over the original colored images (supplies are all listed below)!
This was a fun technique to do and I'll be doing it again in the future. Now, what new technique are you going to try? I hope you will play along!!!!
Follow Me!